Transport Facility
Highly

sophisticated

buses are connected to various parts of the city.

The institution has its own transportation facilities to bring the students and Staff

The institution has an excellent transport facility for the faculty, staff and  Students with flexible and Competitive fare.

The transport facility remains available for any kind of emergencies round-the-clock.

State roadways and private buses are also available from Coimbatore.
Transportation Rules for Students
Using of institution transport is not compulsory and only those students who agree to abide by the transport rules of the institution are advised to use this facility.

The transport fee should be a paid in the beginning of the year and the fee once paid will not be refunded under any circumstances.

The transport charges will be notified every year and is subject to change depending on the increase in the cost of free and other operating costs.

Strict discipline should be maintained inside the institute bus.

The boarding/dropping point should be given clearly on the requisition form.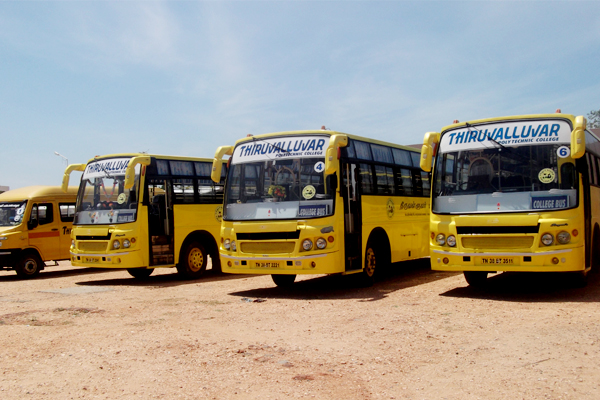 The routes covered by the college bus are as follows:
S.No.            Bus No.                                                   Route
 1.                     01                  Sirumugai to College (On the way of Karamadai Road)
 2.                     02                  Oondipudur to College (On the way of Sathy Road)
 3.                     03                  Velliyangadu to College (On the way of Karamadai Road)
 4.                     04                  Vakarayampalaym to College (On the way of Annaur Road)
 5.                     05                  Coimbatore – Thondamuthur
                                               – Vadavalli  to College ( On the way of Mettupalayam Road)
 6.                     06                  Ukkadam to College (On the way of Mettupalayam Road)